To comply with AML/CFT standards (Anti-Money Laundering and Combating the Financing of Terrorism), all XWallet users must open or maintain a verified account according to the guidelines set out by the Monetary Authority of Singapore (MAS).
During the KYC verification process, we'll need you to verify your identity and address:
Personal information
Pictures of valid government-issued ID

and proof-of-address
Selfie
Important notes:
1. KYC verification is exclusively processed through the XWallet app. Please don't send us your KYC verification documents by email or ticket.
2. The recommendation would be to use your passport for the verification. If you don't have a passport, your National ID will suffice. Driving License is not supported.
3. The Proof of Address document must match the personal and residential address information you provided. It must show your full name, your residence address and the document's date of issue. For utility/internet/phone/credit card bills, it must be issued within the last three months.
4. Your personal data will be used for verification processes only. We adhere to the personal
data protection standards. You have the right to request to delete your personal data if you
are no longer using Pundi X products and services.
Status After Submission
1. Verification in Progress
Description: Your application is under review
This is a case-by-case basis and may take between a few hours and a couple of business days, depending on different factors (e.g. your nationality, quality of the pictures, unmatched or expired proof of address etc.)
If your status does not change within 2 business days, please contact XWallet Customer Support. See here for details : https://youtu.be/0Xij8gEM1KQ
Please follow our instructions carefully and don't send us any personal information which is not requested by us.
2. Verification failed
Description: An issue occurred with one or more of the above-listed elements in your application and we need you to repeat the process
Tap "Restart Verification" and follow the ID/selfie submission process again. If it happens 2-3 times and you're not receiving any feedback, please contact XWallet Customer Support to find out more about the issue.
3.Your Verification is Approved
Description: Your verification process is successfully completed and you can access the XWallet services.
Note: Due to regulatory requirements, you may be required to re-verify your documents periodically.
The common Verification failed Issues:
1.Basic info:
1)Incorrectly filled in first and last name
2)Incorrectly filled in date of birth
3)Filled in inconsistent ID number (not match with the ID number)
4)Document expiration
2.Image quality:
1)Blurred photo
2)Incorrect side
3)Glare on photo
4)Image integrity
5)Uploaded unsupported document (Screenshot/Photos on computer etc.)
6)Poor image quality(Poor shooting environment/too dark/not clear etc.)
7)Picture face integrity
The following steps will help you to go through the verification process faster:
1. Using the passport as your ID proof can speed up the verification reviewing process.
2. Full Legal Name: Make sure that the name you type is the same as the one on the document you provide. Make sure there are no spelling mistakes and the information matches the ID documentation which you are uploading for verification
3. Take a Good ID Picture:
Take the picture of your ID in a well-lit environment.
Make sure all four corners of the document are visible and there are no reflections (if your phone's flashlight is on, be sure to switch it off).

Clean the lens, hold the phone steady, position the camera in a way that the picture frame touches the edges of the document – once it does, the picture will be taken automatically.

After the picture has been captured, make sure that the information on it is legible. If you're not sure of the quality, retake the picture before submitting.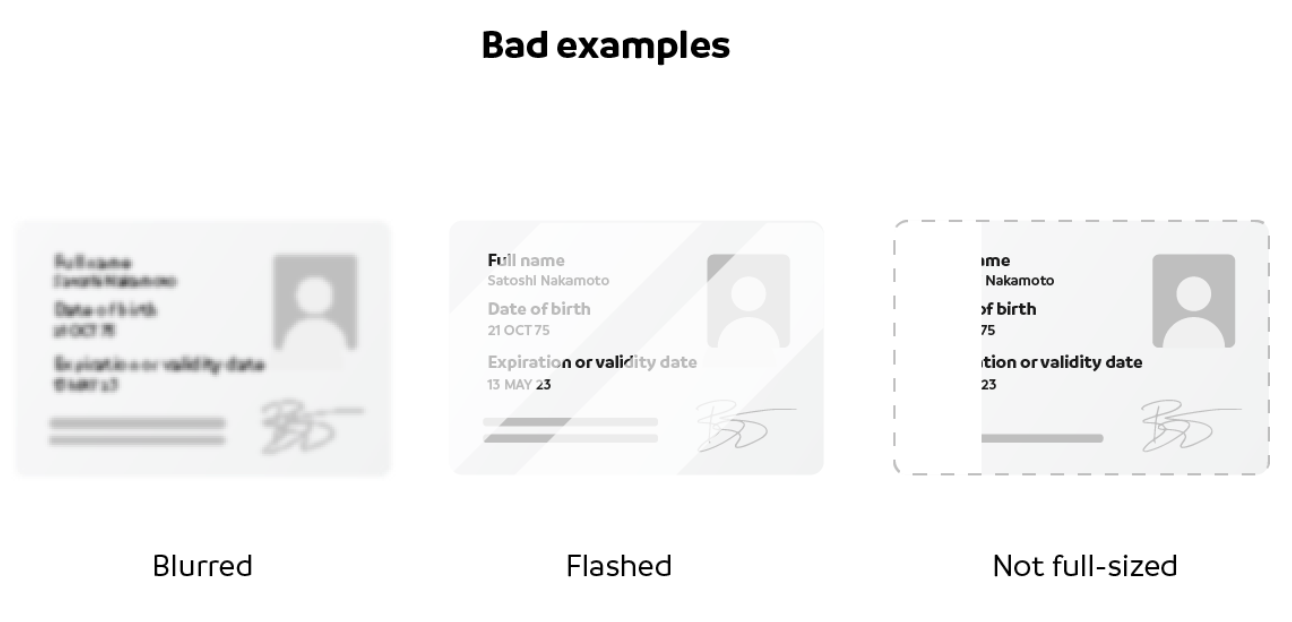 4. Take a Good Selfie Picture: When taking the selfie, hold the camera steady and follow the green dot with your eyes (this process uses video and photo camera), without turning your head. Try to remain still as much as possible – it won't take long!