If you're new to XPOS, you can take a quick tour of XPOS platform to get familiar with the features of each icon.
This is the homepage of XPOS.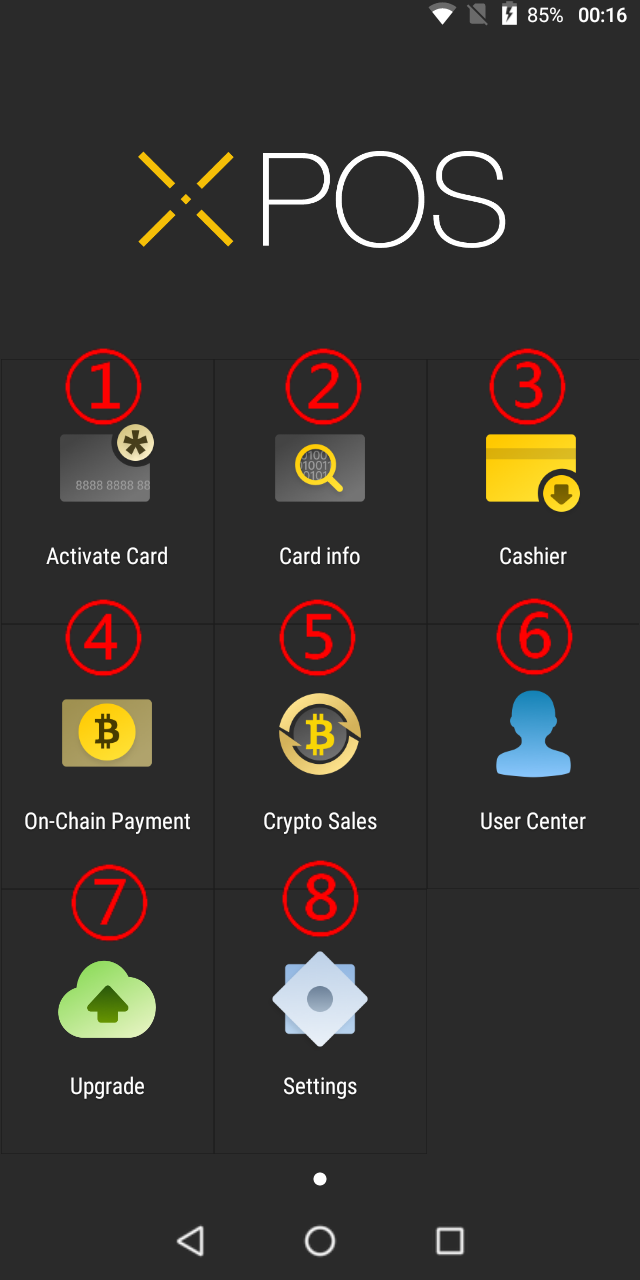 ①Activate Card
As an XPOS merchant, you can activate the new XPASS cards for your customers. To learn how, please read How to Activate an XPASS Card on XPOS?
②Card Info
You can check the XPASS card balance for your customers. Tap the card and then you can view the total value of the card and partial card number. To learn how, please read How to check the XPASS balance by XPOS?
③Cashier
To accept payment, you will use "Cashier" module. There are two ways of accepting payment: cash and crypto. To learn how, please read How to use the cashier function in XPOS?
④On-chain Payment
This module is for you to accept crypto payment from the private blockchain wallets, such as MEWConnect, Trust Wallet and more. Now you can accept BNB and ETH payment from a non-XWallet user. To learn how, please read On-Chain Payment Instruction.
⑤Crypto Sales
To top up cryptocurrency for your customers, you can use the Crypto Sales module. There are two ways to top up digital assets. One is to deposit to customers' XWallet app and the other is to deposit to an XPASS card. To learn more, you can read the following guides.
⑥User Center
In User Center, you can use the following features:
Check account info: account name, mobile number, brand name, store name, and registered address.
Activate or deactivate cash collection feature
Reset passwords
Check collection history
Log out the account
⑦Upgrade
We constantly upgrade the XPOS system so that you can enjoy the new features and better user experience. Make sure to update your XPOS device every month.
⑧Settings
For general device setting, you can find them in this section.
Network selection.
Device settings: display, notifications, sound...etc.
Personal settings: location, security, languages...etc.
System settings: date, accessibility, printing...etc.